About the Client
East West Bancorp is a premier bank focused exclusively on the United States and Greater China markets with more than 130 locations worldwide. The company's wholly owned subsidiary, East West Bank, is one of the largest independent banks headquartered in California and has U.S. branch locations in California, Georgia, Massachusetts, Nevada, New York, Texas and Washington. The company is publicly owned and traded on the Nasdaq Global Select Market under the symbol "EWBC."
Client Objective
East West Bank sought to drive awareness of its business banking products and services amongst English-, Spanish- and Chinese-speaking small- and medium-sized businesses (SMB) owners through a multi-channel advertising campaign in multiple U.S. markets. The media buy for the campaign consisted of television, print and digital with creative produced by East West's award-winning in-house creative team. SeQuel Response, the bank's digital agency of record, was tapped to develop and execute a digital media strategy that leveraged those creative assets to efficiently drive traffic and conversions on campaign-specific landing pages.
SeQuel Strategy
Armed with a set of television and banner ads featuring success stories of SMBs the bank has financed through its business banking solutions group, SeQuel set about creating a multi-channel digital media strategy built on the Internet's most popular and powerful audience platforms, including Google, YouTube and Facebook. The strategy would lean heavily on the highly targeted and efficient video delivery capabilities of YouTube and Facebook. The SeQuel digital team synthesized a variety of targeting tactics designed to pinpoint SMB owners in the designated market areas (DMAs) relevant to East West Bank branch locations, including behavioral (in-market for business financial services), interests, company size, geographic and language segmentation.
Results
The 10-week digital campaign executed by SeQuel drove more than 9.1 million impressions, 29,000 clicks and 644,000 video views at an average $1.31 cost-per-click and $0.04 cost-per-view across Google Display, Facebook and YouTube, and double-digit year-over-year increases in sessions on business banking web pages. A summary of results by channel follows.
YouTube:

As the second-largest search engine globally, YouTube provides a powerful platform for efficient distribution of video ads. YouTube's TrueView video ad format is performance based, meaning an advertiser pays only when more than 30 seconds of an ad has been viewed (or the entire ad, if shorter than 30 seconds). Compared to traditional television campaign reporting, the YouTube ad platform provides extensive metrics including impressions, views, view rate, cost-per-view (CPV), earned views and video played to, which measures the percentage of viewers that watched a video to various points.
In addition to more than 400,000 views of the entire 30-second ad duration (a 36% view rate) at a CPV of $0.04, video overlays and links on the video ad units drove more than 2,800 clicks to campaign landing pages and ultimately more than 1,800 visits to East West Bank's business banking product and service pages. Even for videos not played to completion, video played to metrics for the campaign were very impressive:
25% of video played = 65% of impressions
50% of video played = 47% of impressions
75% of video played = 41% of impressions
This means East West Bank received substantial brand impressions and views of its content that came with no cost because the view length was less than 30 seconds.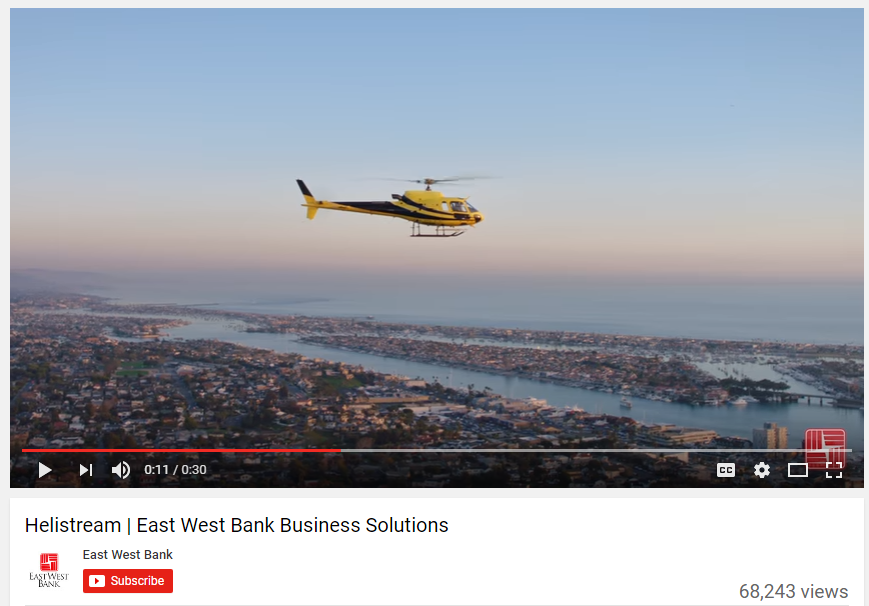 Facebook:

With arguably the industry's deepest and most accurate targeting capabilities coupled with a formidable array of impactful ad units, including native video, Facebook was a must-have in the East West Bank digital media plan. SeQuel created several highly targeted segments in Facebook Ad Manager, crossing multiple demographic, interest and behavioral categories with geographic selects relevant to the bank's branch locations to create custom segments targeting SMB users, then uploaded East West's 30-second TV spots to Facebook to create newsfeed video ads for the campaign. With an objective of video views, the campaign had 218,000 video views of more than 3 seconds, 99,000+ viewing 25%, 54,000+ viewing 50% and more than 32,000 viewing 100% of the bank's 30-second ads. While not a primary campaign objective, the video campaign drove more than 2,500 clicks to the East West Bank website.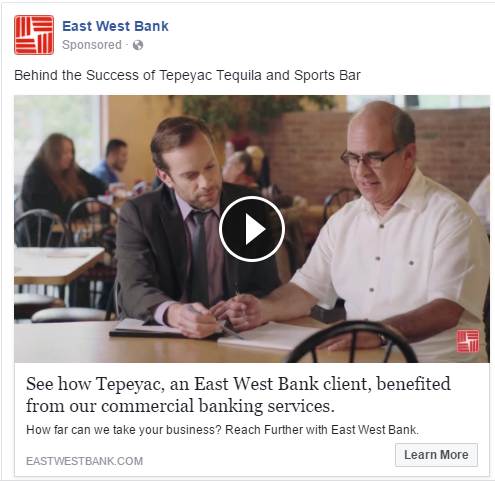 Google Display Network:

Google's Display Network (GDN) provides deep targeting, reporting and flexible bidding options for performance-minded marketers, reaching approximately 92% of Internet users. SeQuel leveraged Google's in-market segments for business banking services, geo-targeting and language-targeting (English, Spanish and Chinese) overlaid with a whitelist of brand-safe sites to generate more than 24,000 high-quality clicks to East West Bank landing pages. CTR was 0.35%, seven times the industry benchmark of 0.05%, at below benchmark of $0.66 cost-per-click. Cost-per-conversion for the display campaign, measured as click-throughs from the campaign landing pages to other business banking service pages on the site, came in at an attractive $19 cost-per-action.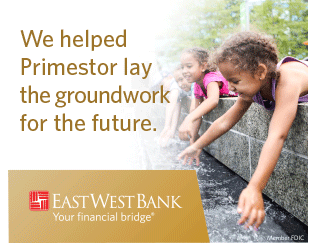 Web Metrics
Overall, the campaign helped drive a 20% year-over-year increase in unique page views and an 80% increase in page entrances to the business banking pages of the East West site, with a time-on-site increase of 14%.
"SeQuel's digital media strategy for our business banking solutions campaign provided a measurable lift for our branding goals. I know I can always count on SeQuel for excellent strategy, execution and results."

—Julia Chen, Vice President, Campaign and Media Manager, East West Bank
Since selecting SeQuel Response as its digital demand-generation agency in October 2016, the admissions department at Northwestern Health Sciences University has experienced dramatic year-over-year growth across some of its most critical key performance indicators, including:
Triple-digit increase in inquiries from digital advertising
Double-digit cost-per-inquiry reduction
Double-digit increase in inquiries across all web channels (paid and unpaid) with sharp increases from cities in close geographic proximity to the university
Double-digit increase in attendance at a critical on-campus pre-admission event
A full prospect pipeline populated with 100-percent branded leads (no lead-aggregator sources)
The impact of the dramatic growth in inquiries is now fully manifest in the university's fall 2017 incoming class, its largest in seven years. Fall new-student starts are up 14 percent year over year, and the institution's flagship Doctor of Chiropractic program enjoyed 27 percent year-over-year new-student growth in an otherwise flat market.
About the Client
Northwestern Health Sciences University is a private, nonprofit, fully-accredited teaching and research institution with a campus in Bloomington, Minn. The university offers multiple degrees and certificate programs through a College of Chiropractic and a College of Health and Wellness.
Client Challenges
Like most higher education institutions, Northwestern was looking to boost its enrollments but was struggling to cost-effectively fill its enrollment pipeline with the necessary volume of prospective students. The university had turned to a digital agency for help, but nearly a year into the engagement, Northwestern still wasn't getting the necessary volume of inquiries, nor was it achieving a sustainable cost per inquiry. To supplement the shortage of leads, the university had been forced to purchase leads from third-party aggregators, which came with high costs and low downstream conversion rates.
SeQuel Strategy
Upon being awarded the account, the digital strategists at SeQuel quickly went to work, diagnosing glaring problems that, once remedied, would have an immediate impact on performance. For example, the university lacked program-specific landing pages that were optimized for conversions, the campaigns lacked a compelling offer, and there were gross inefficiencies in the paid-search and display accounts structures.
Beyond the low-hanging fruit described above, SeQuel optimized the university's paid-search account (Google AdWords) and introduced Bing Ads, as well as other digital channels that would build oft-neglected yet essential top-of-funnel awareness in the geographies most relevant to the institution. This included targeting the most relevant prospects across massively scaled audience platforms, such as Facebook, Twitter and the Google Display Network. SeQuel wrote and designed program-specific creative across all platforms, created program-specific landing pages, introduced a compelling content asset offer, and developed blog content for the university's website regarding career opportunities in natural medicine, which was used in the Facebook campaign as an efficient and effective strategy to build an engaged retargeting audience.
Digital Ads, Landing Pages and Custom Content
Paid Search: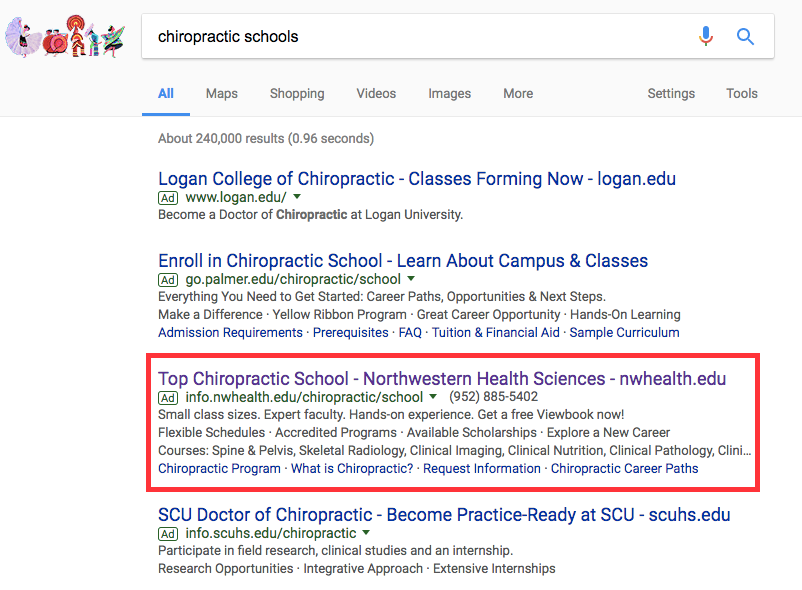 Twitter: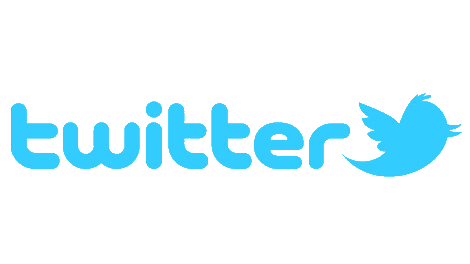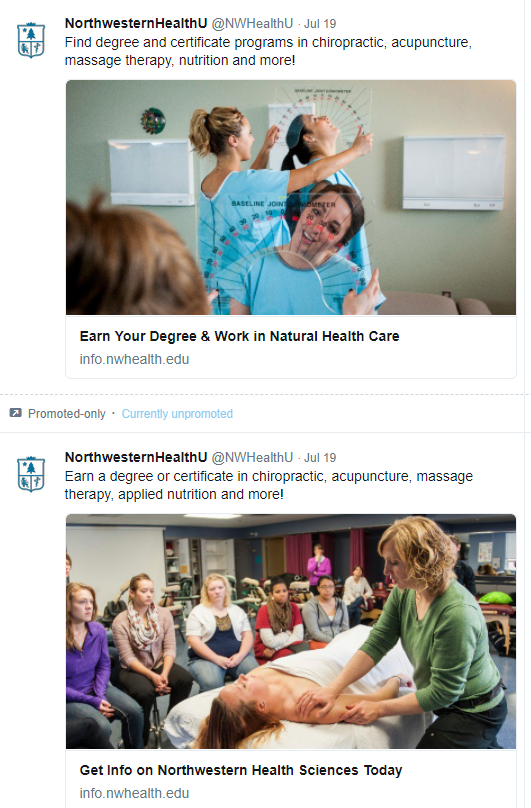 Facebook: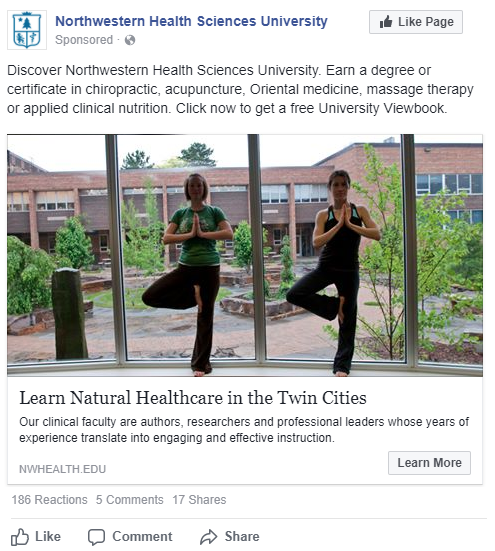 Display:


Custom Blog Content: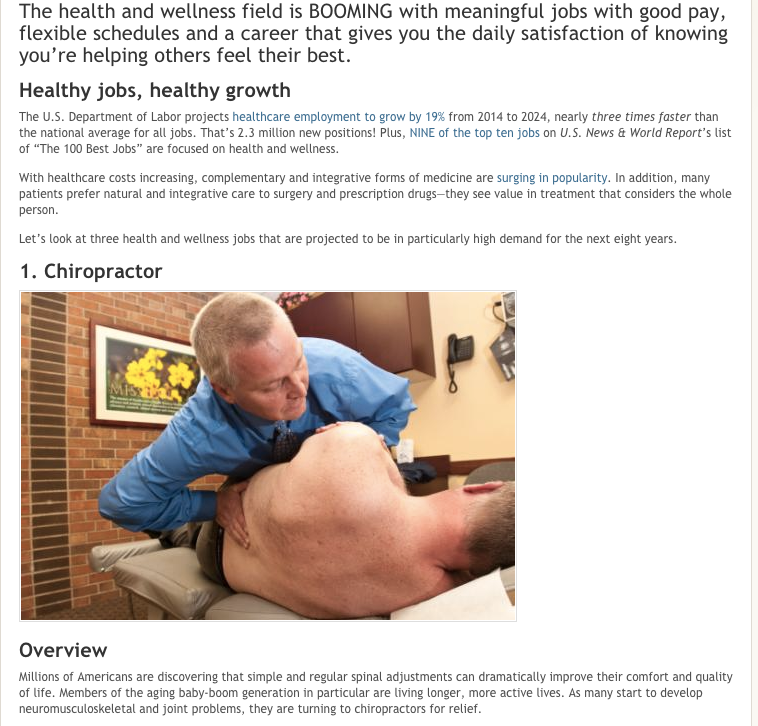 Results: An Immediate and Dramatic Impact
In October 2016 (SeQuel's first month running Northwestern Health's digital campaign) web inquiries from digital marketing efforts increased by 53 percent over the monthly average from the previous nine months, and cost per inquiry decreased by 38 percent. These results were achieved simply through strategic Google AdWords account restructuring. In subsequent months, SeQuel expanded digital channels beyond simply Google AdWords to include Bing paid search, Facebook ads, Twitter ads, Google Display Network and Google Remarketing (retargeting) to create a comprehensive multi-network, full-funnel digital campaign. SeQuel applied its deep expertise in direct-response marketing best practices across all channels, paying special attention to the post-click user experience. SeQuel's strategists built conversion-focused landing pages using a leading landing-page platform, which permitted rapid deployment and iteration for A/B testing.
The results in the following months, after all aspects of the SeQuel strategy were implemented, pushed performance well beyond the university's expectations.
Digital Advertising Performance
Inquiry volume (admission info requests) from digital advertising, including paid search, paid social and display, increased by 673 percent year over year, with average cost per inquiry decreasing by 70 percent.
Organic and Direct Channel Performance
The benefits of SeQuel's full-funnel campaign strategy aren't limited to triple-digit increases across paid digital advertising channels. Conversions via the university's critical organic search, direct and referral channels have also increased by 29 percent, thanks largely to the dramatic increase in visibility across paid search, social and display, coupled with the development of relevant career content targeted at a wide variety of both modeled and interest targets. Northwestern has now engaged SeQuel on a separate SEO project to further enhance these impressive results.
Pre-admission Events
In response to the massive increase in interest generated by SeQuel's digital advertising campaign, Northwestern's admissions staff asked the agency to assist them in promoting their pre-admission events, a critical conversion stage in the enrollment funnel. With SeQuel's help, attendance at these events has risen steadily, with overall attendance at a major spring event increasing by 85 percent year over year, including a 100-percent increase in attendance among prospects interested in Northwestern's chiropractic degree, the university's highest-revenue program.
Success Spurs Further Engagement with SeQuel
With spring and summer enrollments exceeding campaign goals, the university is building on this momentum and expanding its relationship with SeQuel Response. SeQuel conducted a comprehensive SEO audit of the university's website, uncovering multiple opportunities for improving organic search rankings for strategic keywords. SeQuel is now working with the university's information technology team to implement these recommendations. Northwestern Health also operates integrative health clinics in multiple locations in the Twin Cities and has tapped SeQuel to help them boost patient volume at their campus clinic in Bloomington.
"The team at Northwestern is just outstanding to work with," said Chris Hofmann, VP of Digital Services at SeQuel Response. "The admissions staff knows that every lead is a valuable opportunity, and they are systematic about advancing each one through the various stages of the enrollment funnel."
"The conversations we've had with the people at SeQuel have been very different from those with our prior agency. SeQuel's team is very strategic, and they've been extremely responsive to the questions we've had. When SeQuel began managing our digital lead-generation campaign, we felt the impact almost immediately. They delivered on their promise to deliver a higher volume of qualified inquiries at a dramatically lower cost, and we're connecting with these prospective students at a much higher rate, which has eliminated our need to purchase non-branded leads from a lead aggregator. Thanks to SeQuel, we have more demonstrated interest in our institution than ever before."
—Erin, Director of Admissions
Looking for a faster way to grow your business?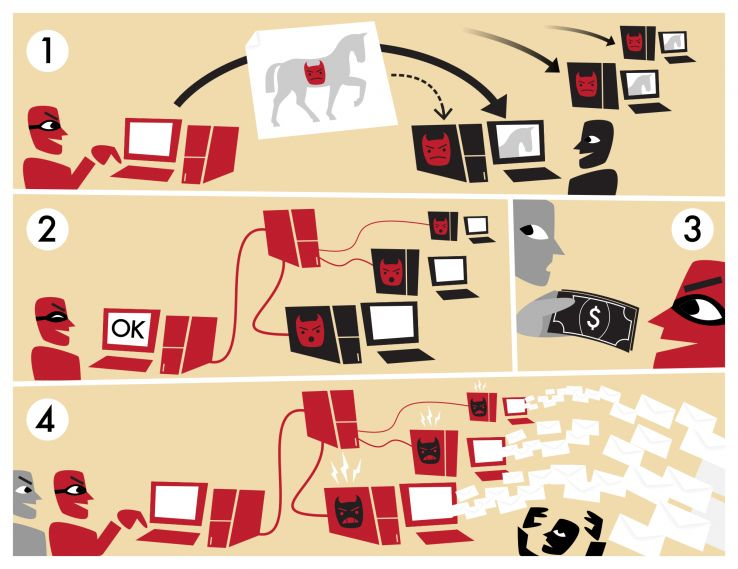 We've all heard a lot lately about "fake news." Most people think its rise is the result of political gamesmanship. But actually, the primary driver is economics. As we all know, more web traffic means more advertising revenue, regardless of whether your content is legitimate or fake.
It's more important than ever for brands to partner with an agency committed to employing every tool and making every effort to ensure valuable ad budgets are spent on relevant human audiences and quality sites.
There's a great Washington Post article that explains how digital ad fraud, fake news and bot traffic are all interconnected in one giant money-making scheme. According to Entrepreneur.com, "Billions will be lost to ad fraud this year, and ~37% of ad impressions will come from bots." The World Federation of Advertisers forecasts that by 2025, ad-fraud losses will total over $50 billion, making it the second-largest organized crime in the world, behind only illegal drugs.
Clearly, a significant faction of site publishers will stop at nothing to skim money from well intentioned advertisers' budgets. So the question is, what can marketers do to protect valuable digital ad budgets from these wicked schemes? But before we discuss safeguards and solutions, let's see some examples of what we're up against.
How do publishers commit digital ad fraud?
Ad fraud is a crime that has low-risk and high-reward. In fact, as you can see in the chart below, there's a lot of money to be made in ad fraud, and it requires very little effort.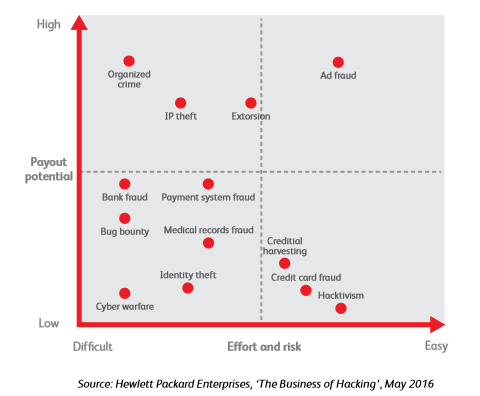 There are various tactics that disreputable publishers will use to commit digital advertising fraud. These sites make money hand over fist by sending waves of bot traffic to their fake content, thereby driving up the price of their ad space. To the untrained eye, the homepages of these sites make them appear legitimate. But digging a little deeper into the site architecture reveals just how useless their ad space really is.
Digiday interviewed a former fake-web-traffic buyer who was at one point spending between $10,000 and $35,000 per day on bot traffic. The single largest instance of ad fraud occurred in January when Methbot defrauded advertisers of $5 million a day by faking 300 million video views.
To make matters worse, some major supply-side platforms (SSPs) provide their services to the publisher on a don't-ask, don't-tell basis, turning a blind eye to the authenticity of the site traffic. The publishers then mark up their cost per thousand price and sell their ad inventory on ad networks and ad exchanges. Publishers have an easier time hiding their bot-traffic schemes when ad agencies purchase inventory through demand-side platforms (DSPs) based on audiences, and not on site placements.
If these phony publishers are ever discovered by ad exchanges and/or SSPs, the penalty is blacklisting (a temporary slap on the wrist, since they can easily replicate those same schemes under new domains).
Whether they know it or not, every link in the ad-tech supply chain benefits from these schemes, from the bot-traffic provider, to the publisher, to the SSP, to the ad exchange/network, to the DSP, and even the ad agency. Of course, not every cog has malicious intent, but that doesn't soften the blow for unknowing advertisers.
Solving the digital ad fraud problem
Luckily, there are also good guys in this space—guys like Marc Goldberg, CEO of publisher-verification firm TrustMetrics—who are detecting the fraudsters and reporting them to ad exchanges, SSPs, etc. Dr. Augustine Fou is an ad-fraud and cybersecurity researcher with a PhD in Materials Science & Engineering from MIT. His recent blog debunked the myth that the only victims of ad fraud are advertisers with large media budgets, and he went on to challenge agencies and advertisers to be more proactive regarding ad fraud.
Agencies like SeQuel are answering Dr. Fou's call by integrating fraud prevention/detection into programmatic media buys. That includes the use of whitelists, DSPs with proprietary anti-fraud technology like Dstillery, and pre-bid technology from ad-tech firms like Integral Ad Science.
Most advertisers limit their exposure to ad fraud by aggressively utilizing paid search and paid social before allocating budget to programmatic ads that are unfortunately served to the rapidly growing number of fraudulent sites across the web. Of course, many, many sites are perfectly legitimate. During January's Industry Preview in New York, our team spoke with the programmatic manager at weather.com, and they take numerous proactive steps to limit bot traffic to their site. But by and large, "walled gardens" like Google Search, YouTube, Bing, Yahoo, Facebook, Instagram, LinkedIn and Twitter are safer options. There will always be some bot traffic going to these sites, but since these ecosystems don't rely on third-party publishers for ad revenue, the potential payback for fraudsters is inherently limited.
We don't expect the digital advertising landscape to be clear of ad fraud or fake news anytime soon. In fact, it's very likely to get worse. That's why it's more important than ever for brands to partner with an agency committed to employing every tool and making every effort to ensure valuable ad budgets are spent on relevant human audiences and quality sites.
By Justin Fisher, Senior Digital Media Analyst
SeQuel Response has named Priority Envelope the winner of its first annual David Forster Vendor of the Year Award, the direct marketing agency announced Thursday.
"Priority is always willing to jump through hoops for us on emergency jobs," said Paula Phipps, SeQuel's VP of Purchasing. "If there is an issue, they are in our office with samples immediately, and they usually send proofs within four hours of receiving artwork. They are very responsive and frequently bring new ideas to our attention that are trending in the industry."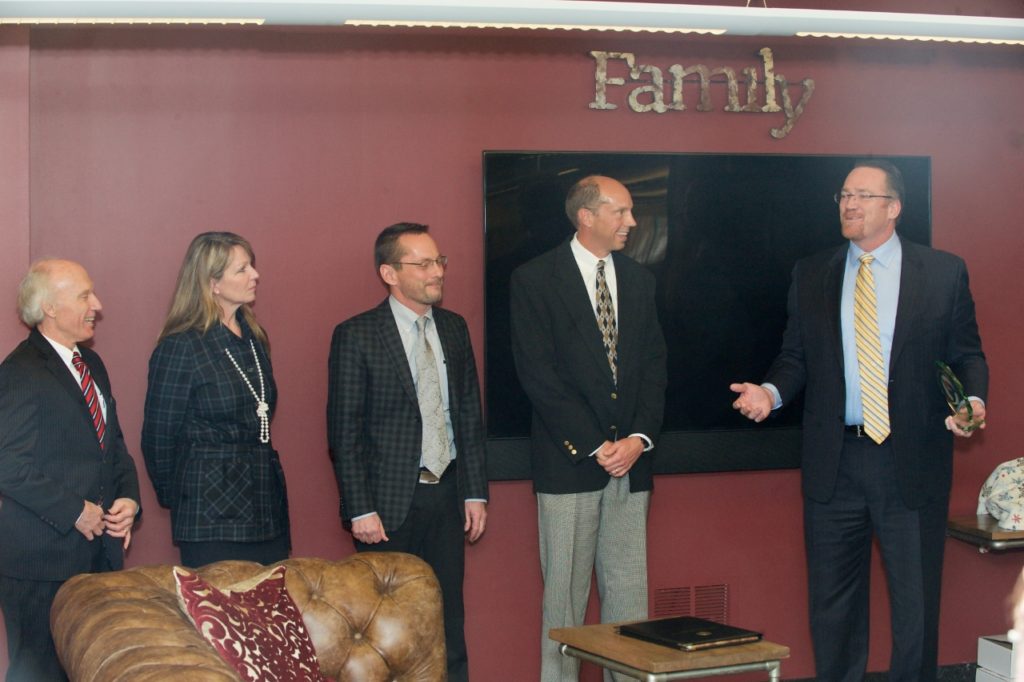 SeQuel's Co-Founder & Chief Operating Officer, Jay Carroll, presents the first annual David Forster Vendor of the Year Award to the leadership team at Priority Envelope.
The award is named for David Forster, who worked for his mother, Sandy, at Little Pepper Promotions, which supplies SeQuel's branded clothing and gifts. David passed away unexpectedly at age 27 while training for a marathon in June 2016. Doctors later discovered that David had a heart virus known as myocarditis.
"We are absolutely thrilled and humbled to be recognized by SeQuel Response as the inaugural David Forster Vendor of the Year Award recipient in 2016," said Ryan Wenning, President of Priority Envelope, a custom envelope manufacturer based in Plymouth, Minn. "More significantly, SeQuel's tribute to David Forster in such a meaningful, heartfelt manner with a commitment to his memory speaks volumes about the entire team at SeQuel Response."
Each year, SeQuel plans to give the award to the vendor partner that displays the most effort, integrity, proactivity, creativity and unselfishness.
"These are the very same qualities we saw in David Forster each time we were fortunate enough to interact with him," said Jay Carroll, SeQuel's Co-Founder & Chief Operating Officer. "We have such a talented group of vendors, and they're a big reason for the success we've had. So this award is the perfect way to give them the credit they deserve and pay special tribute to the way David lived his life."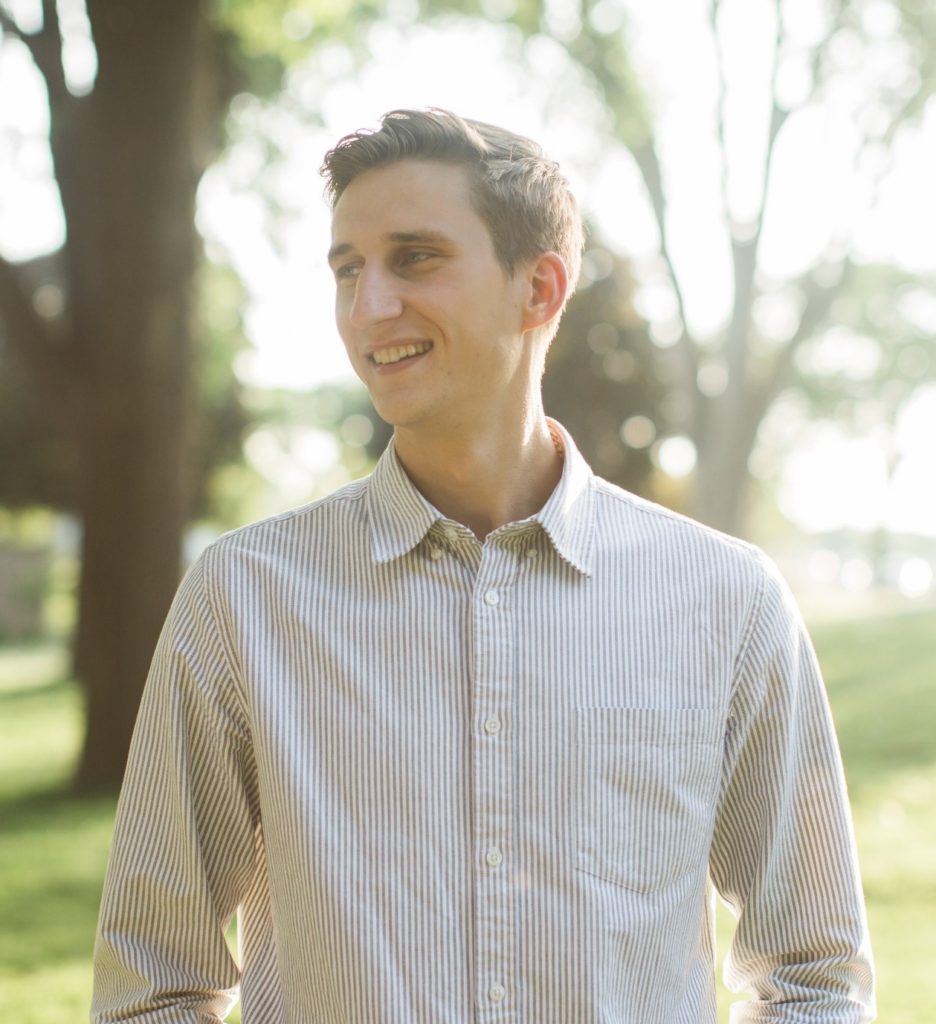 David Forster, who worked at Little Pepper Promotions, a family-owned supplier of SeQuel's branded clothing and gifts. David passed away unexpectedly at age 27 while training for a marathon in June 2016. Doctors later discovered that David had a heart virus known as myocarditis.
SeQuel will make an annual donation in David's name to a charity chosen by the Forster family. This year the family asked that the gift go to the Minneapolis Heart Institute Foundation, to fund myocarditis research. In a surprise gesture during the award ceremony, the owners of Priority Envelope announced their plans to match SeQuel's donation to the heart institute.
"It has been largely the unbelievable outpouring of love and support we have received that has buoyed us up during these hard days," Sandy Forster said. "We will never forget our beautiful boy, and we are forever grateful to our wonderful friends at SeQuel for letting us know that they want to remember him in such a wonderful way, too."
To discover ways you can support the Minneapolis Heart Institute Foundation, click here.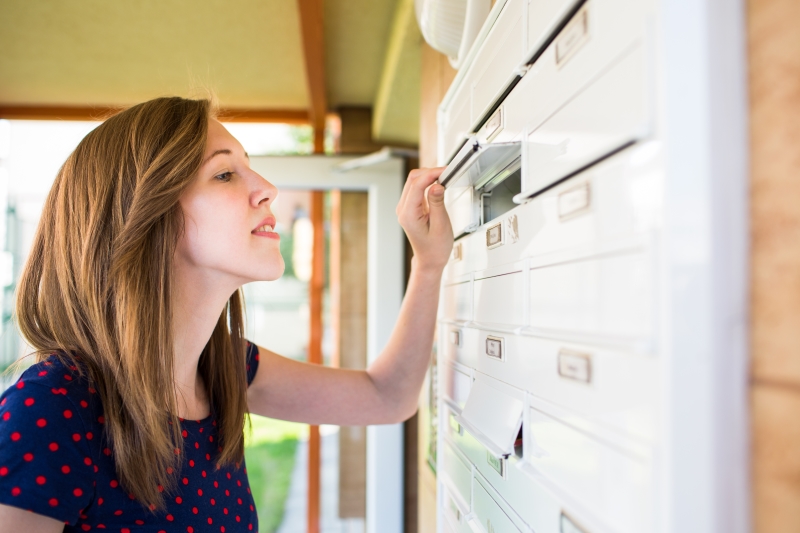 Who says direct mail is old news?
Done well, direct mail has always been an effective and profitable way to sell. And this venerable channel continues to prove its worth today, even with the rise of digital marketing.
But maybe you have tried direct mail and you're still not convinced. In that case, we have but one question:
Did you do any testing?
Did you compare the response rates of your package using different mailing lists, offers, or creative executions?
Smart testing is key to direct mail success. It's what tells you whether Audience A responds better to your marketing than Audience B; whether Offer X outpulls Offer Y; and which creative elements—layouts, headlines, graphic designs—move the needle the most.
Testing is how we at SeQuel Response helped a leading consumer brand build a successful direct mail program from zero to become its #1 most profitable acquisition channel, boosting response by 270% and reducing cost per acquisition by 50%.
Test, and you shall receive. It's true! Find out for yourself with our free e-book, "9 testing mistakes direct mail marketers make—and how to avoid them." You can preview the first eight pages below. To see the rest, simply download the entire e-book for free.
———
9 testing mistakes direct mail marketers make—and how to avoid them
"If you're not getting better, you're getting worse."

—Pat Riley, Five-Time NBA Champion Head Coach
If your direct mail campaign was failing to reach hundreds of thousands of would-be new customers every year, how soon would you want to know that? Yesterday, right?
The reality is that without an advanced knowledge of sophisticated testing strategies, you could spend years investing in a non-optimized control that leaves millions of dollars on the table annually. So whether you're a DM pro trying to unseat an existing control, or your company is new to mail and looking to structure a launch test, the insights in this report will put you on the fast track to maximizing ROI in the direct mail channel.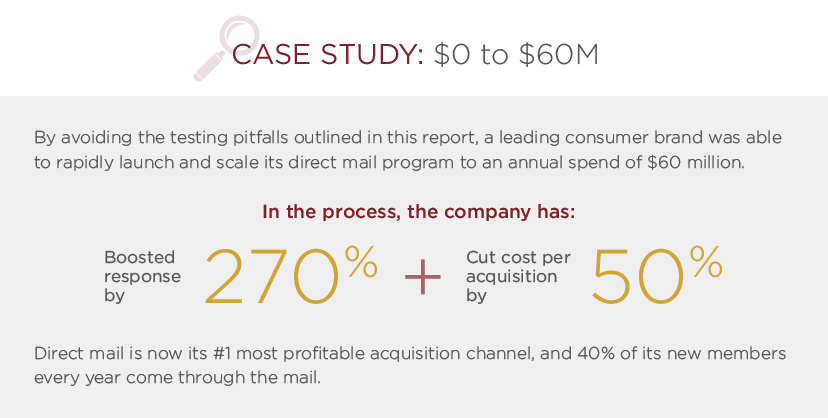 Mistake #1: Not testing
"In any moment of decision, the best thing you can do is the right thing, the next best thing you can do is the wrong thing, and the worst thing you can do is nothing."

—Theodore Roosevelt, 26th U.S. President
Seems like an obvious mistake, but you'd be surprised. When our marketing strategists begin a conversation with a prospective client, we walk in the door knowing there's a 10% chance that the company is not performing any testing whatsoever in the direct mail channel.
There could be a number of reasons for this. Perhaps they don't have the creative resources. Maybe they don't know how to structure a test matrix. It could be that they don't have enough room in the budget. But most of the time, if they're not testing, it's because inefficient testing methodologies have created a risk-averse culture within the organization.
A toxic testing culture
"If your regular promotion produces a response rate of 2 percent, and your test produces only 1 percent, you will be accused of wasting the company's money by doing the test. If your test produces 3 percent, you will be accused of wasting money by mailing your regular 2-percent promotion. If you do no testing at all, no one will complain." —Arthur Middleton Hughes, Database Marketing Author
Based on Hughes' observations, it's easy for us to understand why it can be difficult for you to get tests approved—especially if performance isn't fatiguing enough to raise eyebrows. But every wave eventually comes to shore. Fatigue will set in—it's just a matter of when. And by the time you notice it's happening, and you're actually feeling the effects of it, you could be three to six months away from a fix.
The irony of mistake #1 is that if you're making mistakes #2 through #9, you'll likely wind up making this one, too. Testing is risky, and after a few failed attempts, you'll assume you can't do any better than this list or that creative. But in reality, your problem doesn't always lie in what you're testing, but in how you're testing.
Mistake #2: Having the wrong definition of success
"I have not failed. I've just found 10,000 ways that won't work."

—Thomas Edison, Inventor
The end goal of a test is knowledge—not profit. But sadly, many direct marketers judge the performance of a test based on the aggregate response rate or cost per acquisition of the entire testing effort.
The only way to maintain sanity when testing is to look mainly at the best performing test cell, and compare its performance with that of your existing control. If that promising new combination of creative/offer/list proves itself in a backtest, imagine the impact that one cell could have on the overall profitability of your next rollout. Plus, your cost per piece will never be as high at rollout scale as it is at test volumes.
No wasted test cells
It's worth acknowledging that, yes, to find that winning cell—or ideally, those winning cells—you've spent most of your testing dollars on combinations that didn't yield the ROI of your old control or new winners. But guess what? That money wasn't a waste at all!
In that process, you've learned precisely what doesn't work. If you've structured the test properly, you'll know the exact concepts, offers and lists that had a negative relative impact on performance—and you never have to "waste" money on those data sets again.
Now, if only you could figure out a way to weed out those losers before spending any money testing them… (We'll answer that riddle in the sections ahead.)
SR, CPA, CPL, LTV… OMG
Once you have your expectations in line, it's time to figure out which key performance indicators you'll use to measure success. Many direct marketers obsess over response metrics, when in reality, measures such as cost per acquisition or lifetime value might be much better indicators of victory.

The lesson there is to always look for test variables that attract the best possible class of customer—don't rule out an element simply because it lost the sales-rate game at face value.
———
Don't stop here! Keep reading to discover seven more mistakes direct marketers make—so you will know how to avoid them.
Yes, I admit, I was quite skeptical of the programmatic display revolution.  I came from the world of SEM and SEO where marketing is mostly a pull action instead of a push action.  Users "search" for what they want so the users' conversion intent is relatively strong.  Programmatic advertising falls under the umbrella of display so it's more of pushing ads to a user.  However, the more I learn and understand what programmatic is all about the more intrigued I become.  Ads are targeted to individuals based on an audience profile that he/she is placed in.  Ads aren't necessarily served on a relevant website, but are served to a relevant audience on numerous websites that those users navigate to.  Users may be surprised to find an ad served to them for something that is of interest to them.  Think of the scene in Minority Report where Tom Cruise is targeted by ads personalized to him as he walks through a mall corridor:
Programmatic Shouldn't Be Irrelevant Noise
Programmatic advertising may not be as futuristic as walking through a mall corridor with ads being served and marketed specifically to you, but we are going in that direction.  We've all been there…reading a blog post about our favorite sport team's new player and an ad obnoxiously obstructs our focus, "Obama passed the HARP Act!  See how you can lower your mortgage payments now!" (although you've been renting an apartment for years and never owned a home).  You think, "Is this really what digital marketing has become?"  You may cringe at the thought of moving away from the unintrusive, harmonious experience of search engine marketing toward the in your face noise of display advertising.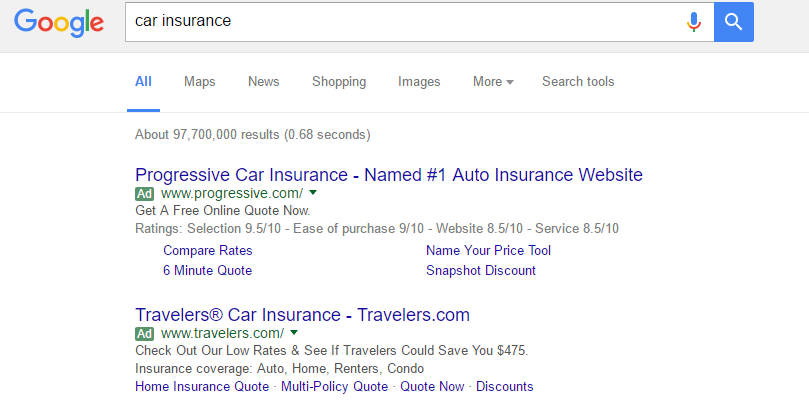 vs.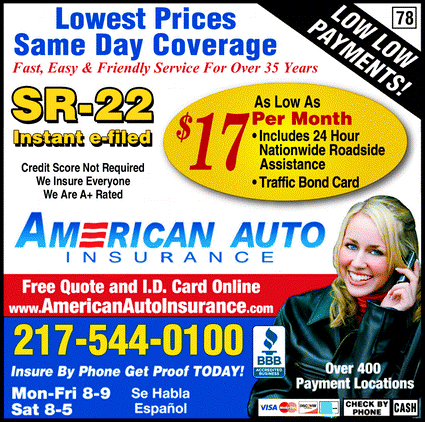 RTB, DSP, DMP…OMG
We've heard of digital media buying, RTB, DSPs, DMPs and other confusing acronyms, but where does "programmatic" fit into the picture.  Wikipedia doesn't have a listing for "programmatic advertising" per se but there is a result for Real-time bidding.  For now, you need to learn the high-level ins and outs of programmatic advertising – digital ad inventory is bought and sold on a CPM basis through an instantaneous auction similar to the stock market.  If the bid is won then the buyer's ad is displayed on the publisher website.  What do these acronyms really stand for?  RTB (real-time bidding), DSP (demand-side platform), SSP (supply-side platform).  Check out this easy to understand graphic that seems to explain how the ad auction works between DSPs and SSPs: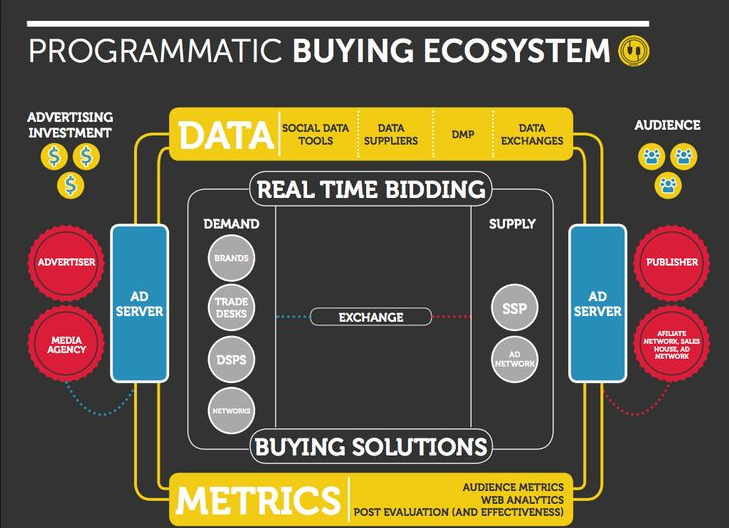 (Courtesy of Gulshan Sirohi)
What are the Benefits of Programmatic Advertising?
It actually wasn't until a visit to the Quantcast RTA Academy Roadshow in Minneapolis mid-2016 that I realized if you don't learn programmatic advertising, then your value in the digital marketing world would become somewhat obsolete.  You can be an expert in digital avenues such as Search, Social Media, Email, etc. but those skills are becoming less and less in demand where digital marketing is going.  Yes, it is important to be able to capture the search intent of users out on the world-wide-web, but what about the people out there that don't even realize they have a need for something that they are not actively pursuing?  Let's use a personal example…I came down with a pretty bad illness that was really difficult to eradicate.  My doctor put me on a medication which did nothing for my symptoms.  Desperate for a cure, I browsed several different websites, message boards, and blogs of material related to the infection without much success.  I Googled relevant search terms that I hoped would find me that magical pill with no avail.  One day I was reading a news blog and an ad showed up with a coupon for a specific antibiotic that focuses on my issue. I had read a bit about the drug on a message board, but was turned off about the extremely high cost that prevented most people from trying it.  I clicked on the ad and learned that with this coupon I only had to pay $50 for the medication that usually cost over $3,000!  With my coupon in hand I did more research about the drug and realized that it had a high success rate.  Lo and behold, after a couple weeks of taking the pill I felt much better!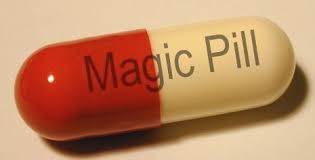 The main takeaway of the Magic Pill story was that my biases about display advertising being ineffective were wrong.  I could have Googled for weeks and never came upon information that was essential for my health.  The drug that cured me was marketed well from a display advertising standpoint.  The advertiser learned by my web behavior that I had a relevant illness and was doing research to find a remedy.  Then they served a relevant ad to the right person, at the right place, and at the right time.  Similar to Tom Cruise in Minority Report, there is a cool and creep factor in this brave new world of audience targeting with online advertising, but it's definitely something we need to understand and even execute on in our own digital campaigns.
By Justin Fisher, Director of Digital Media & Technology
Marketers who grew up with or were converted to the "religion" of direct mail can be a cantankerous, dismissive, and even arrogant bunch when it comes to other forms of advertising. For example, brand or "image" advertising is often viewed as fluff and even a misallocation of valuable budget because of its shotgun distribution and the challenges in measuring its impact. And digital marketing is seen as being dominated by a lot of wet-behind-the-ears technicians who couldn't write a compelling headline if their smartphone plan depended on it. Yet even the crotchetiest old-school direct marketers have to love what they see in Facebook advertising.
List, offer, creative—in that order
Turns out that much of the reason for loving Facebook advertising has to do with what we as direct marketers have always known to be key in the direct mail formula of success—the quality of the list. In direct mail, "list quality" refers to the accuracy with which a marketer reaches its target audience demographics.
Hitting the right people is absolutely critical in all advertising because nothing is more important than relevance, and in no channel do marketers have more control of this aspect of a campaign than direct mail. (Yes, still.) Yet, with the penetration of Facebook now hovering around 1.6 BILLION users, a veritable treasure trove of targeting criteria, and users logged in virtually around the clock, Facebook is fast becoming the direct marketer's dream channel. I should also mention another reason—the (admittedly a bit scary) power of the Facebook pixel, which not only tracks user behavior on Facebook, but also on the web—but discussion of the Facebook pixel warrants its own blog post, so we'll talk about that another time.
Hitting your exact audience on Facebook—a real-world example
Rather than recount all of the different ways you can target your specific audience on Facebook, a topic which has been very well documented elsewhere, I want to share a real-life case study where a colleague crushed it by using the granular targeting available in Facebook advertising.
In this case, my team was working in the online higher education space for a major public university that sought to promote an online bachelor's completion program in diagnostic imaging. The goal of the campaign was to generate qualified leads for a team of enrollment advisors whose job was to contact and further qualify the leads and convert them to applications for admission into the program.
Initial targeting in Facebook focused on relevant clinical job titles, fields and interests, and education levels below the bachelor's degree level. Clicks were directed to a conversion-focused landing page with an info-request form that included fields for capturing name, contact information (including email and phone), and current education level. While the campaign was producing leads within the budgeted cost per lead (CPL), the CPL had been climbing steadily and the qualified lead rate had dipped below 50 percent in recent months.
The unique aspect of this campaign was that admission to the bachelor's completion program, and importantly, the awarding of 60 credits toward the bachelor's degree, required an active registry with one of four medical imaging organizations, such as the American Registry for Diagnostic Medical Sonography (ARDMS). Active registry meant that the prospect had passed some sort of exam and was recognized by the organization as a qualified professional.

The landing page asked for these credentials specifically on the lead form. Normally this would be considered a friction element that would weaken conversion, but in this case, generating qualified leads for recruitment was deemed more important than simple volume. Hence, a lead was only considered qualified if the prospect was active with one of the four registries.
Drilling down for gold
Instead of seeing these requirements as a shoulder-shrugging barrier to success, the digital media analyst, who had recently taken over daily management of this account, saw them as an opportunity—an opportunity to drill down into Facebook targeting submenus to find a way to increase the relevance of the campaign.
The first step was to find people who already held one of the four required active registries. Could even that level of admittedly obscure detail be found within Facebook? The answer was yes!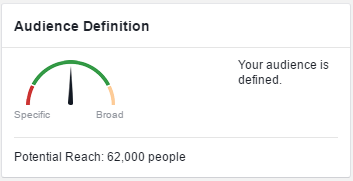 Targeting at the registry level produced a very relevant audience size of 62,000 across the United States.
The next step was to write ads that would immediately resonate with this audience. What better way to do this than with a headline that asked: "Got your [registry acronym]?"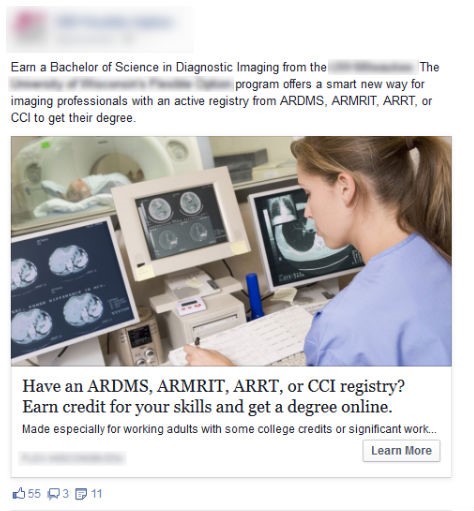 This tried-and-true copywriting tactic—the question formula—works particularly well when targeting a niche audience, especially one that is tied to a professional organization.
Eye-popping results
With this relatively simple change in targeting, CPLs dropped 85 percent in one month—from $94 to $14—and the qualified lead rate increased from 45 percent to 97 percent, all without sacrificing the lead volume goal. In fact, this campaign ran so hot that the monthly lead goal was met within a day and had to be dialed back to maintain a manageable lead flow for the enrollment advisors.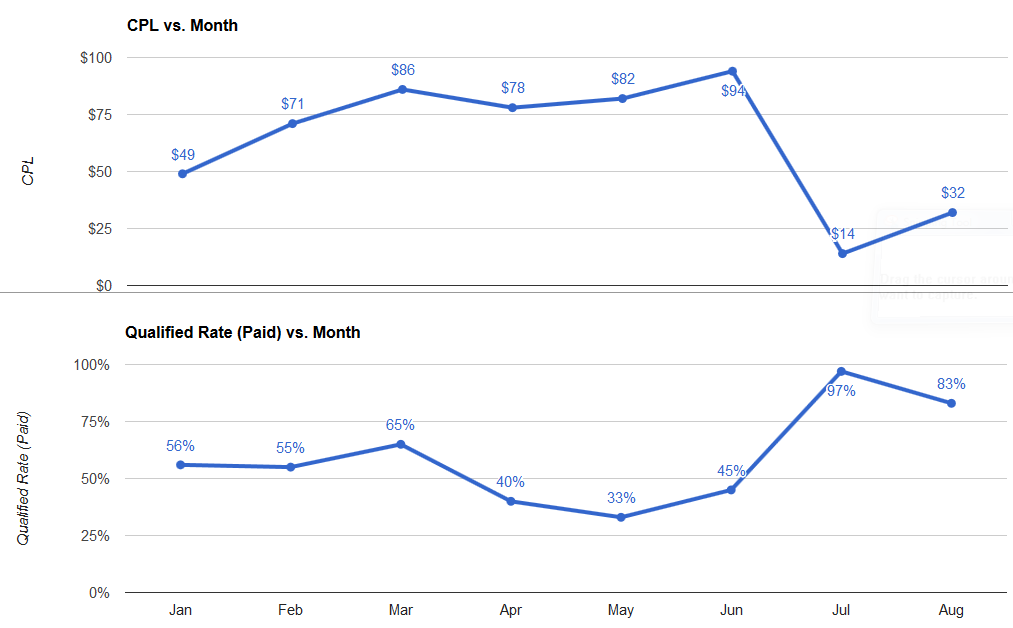 Facebook advertising for all? Not so fast . . .
Don't get me wrong—I'm not saying that Facebook will work for every campaign and audience, or that you should eliminate your direct mail budget and go all-in with Facebook. In the above example, we were dealing with one of Facebook's (and higher education's) sweet spots: the young to middle-aged female audience. But it's results like these that get your attention and can make even a grizzled direct mail veteran smile.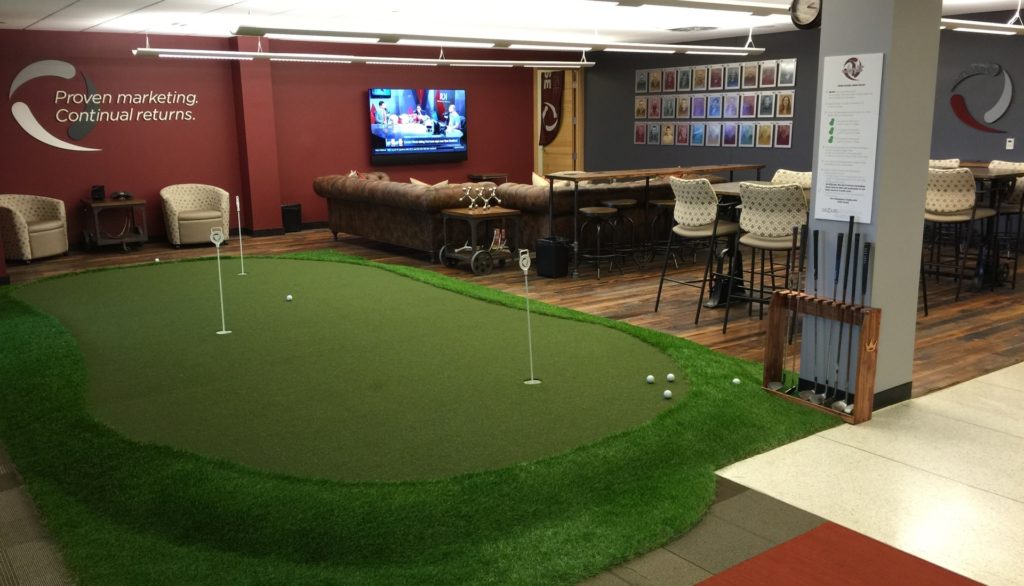 A silent auction at SeQuel's new headquarters Thursday night raised over $6,000 for Habitat for Humanity.
The nonprofit builds affordable housing for families around the globe who are facing poverty, war, civil unrest, natural disaster, etc. Over one million people each year volunteer to help build and repair homes under Habitat's trained supervision.
"Many people have played a big part in the growth that allowed SeQuel to move into its dream home," said SeQuel's Co-Founder and Chief Operating Officer, Jay Carroll. "It was our time to help needy families move into their dream homes."
Over 170 guests–mostly SeQuel employees' family members, friends, vendors and other business partners–bid on 41 auction items that were donated or procured by SeQuel employees.
"I was extremely proud of not only the turnout at the open house, but also the quality of the items that our employees donated," said SeQuel's VP of Client Services, Vicki Erickson. "Our team members and guests really rallied around this worthy cause."
SeQuel's new headquarters, which is a little over one mile from the direct marketing agency's previous home in Eden Prairie, Minn., had ample room to host the crowd. The 13,000 square-foot space features 13 offices, 29 cubicles, and even a sloped putting green, which played host to a putting contest that raised additional money for Habitat.
"We didn't want the event to be solely about our new digs," said SeQuel's Co-Founder and President, Tom Rothstein. "We wanted the event to have a purpose, and we're proud to partner with an organization as special as Habitat for Humanity."
Want to volunteer with Habitat for Humanity?
Click the video above to find out how FaQtor Test will lower your cost per acquisition faster than any testing methodology in the direct marketing industry today.
Want to learn how to build a FaQtor Test matrix?
SeQuel's proven FaQtor Test methodology gives direct marketers high odds of quickly beating control–just like a full-scale multivariate test–but for a fraction of the price.
(We do that by strategically choosing a few creative/offer/list combinations to test at sample volumes, measuring which variables have the greatest impact on performance, and extrapolating those findings to predict the performances of various combinations that our clients didn't have to pay to actually test.)
But did you know that our FaQtor Test is actually rooted in a renowned statistical experimentation practice called 'fractional factorial design'? In this video below from 1966, Princeton University Professor J. Stuart Hunter explains where FaQtor Test got its roots.
Want to learn more about our FaQtor Test?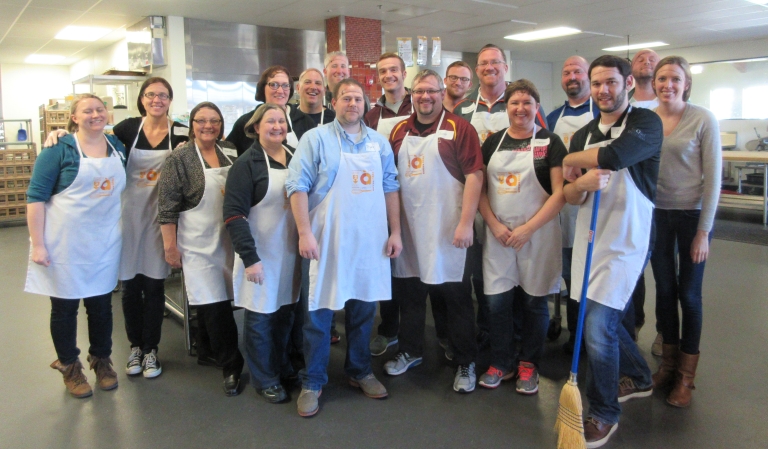 SeQuel employees recently helped a Minneapolis charity prepare 753 meals for people with life-threatening illnesses.
"With the support of people like SeQuel's employees, Open Arms is able to bring comfort, nutrition, and support to our fellow community members," said Maria Kustritz, Kitchen Host & Volunteer Specialist at Open Arms of Minnesota. "Thank you for helping us nourish our neighbors in need."
Open Arms of Minnesota cooks and delivers free, nutritious meals to people living with HIV/AIDS, cancer, multiple sclerosis and ALS, as well as their dependents and caregivers. SeQuel employees chopped broccoli and packaged entrees made from three different recipes over the course of the afternoon.
"This charity hits home to many of us on a personal level, because we all know people who could benefit from a service like Open Arms," said Vicki Erickson, SeQuel's VP of Client Services. "I was also impressed with the state-of-art-kitchen and facility—I did not expect that."
Open Arms started in 1986 with a single act of kindness—its founder cooked a meal in his apartment and delivered it to a friend with AIDS. Three decades later, the Open Arms operation has grown into a 21,000-square-foot building with a world-class kitchen. With the help of more than 5,000 volunteers per year, Open Arms cooks and delivers over 500,000 meals annually to more than 1,000 people each week.
"The organization has done an immense amount of work since its founding, and their employees were very quick to attribute all of their accomplishments to the volunteers," said Mary Gulbrandson, SeQuel's Office Coordinator. "It was evident with these people that this cause is their passion, and they are very appreciative of any help that comes along."
Want to volunteer with Open Arms?
With pricier postage already built into most 2016 direct marketing budgets, an upcoming postage price cut from the United States Postal Service will allow for augmented testing in the direct marketing channel this year.
"As the historical data and common sense support, the Postal Service anticipates that mailers will alter their mailing patterns after the removal of the exigent surcharge is announced in order to take advantage of the impending lower prices," according to a recent notice from USPS to the Postal Regulatory Commission.
USPS informed the commission that effective April 10, it will remove its more than two-year-old exigent surcharge. The Postal Service put the 3-cent postage hike into effect in January 2014 to help the agency recover from the Great Recession. As of mid-February, USPS had collected more than $4.3 billion of the $4.6 billion in surcharges allowed by the commission.
"While the Postal Service recognizes that daily revenue fluctuations could result in a one- or two-day variation on when the revenue limitation is reached, our current estimate is that the revenue limitation will be reached some time on Saturday, April 9, 2016," according to the USPS notice.
Once USPS officially removes the surcharge, the price of a first-class stamp will drop from 49 cents to 47 cents. Assuming no postage-related Congressional action between now and April 10, this will mark the first drop in postage prices since 1919.
"SeQuel has long fought to offset rising postage prices," said SeQuel's VP of Data & Analytics, Scott Anderson. "Our proprietary change-of-address hygiene services pick up where NCOA and PCOA leave off, further reducing wasted postage and optimizing every mailing list. Plus, the primary goal of our proven hybrid testing methodology is to stretch limited testing budgets, maximizing our clients' learnings and chances of finding a winner quickly. When you combine these capabilities with the upcoming postage relief, 2016 is shaping up to be a banner year for our clients' DM programs."
Want to optimize the way you spend your postage 'refund'?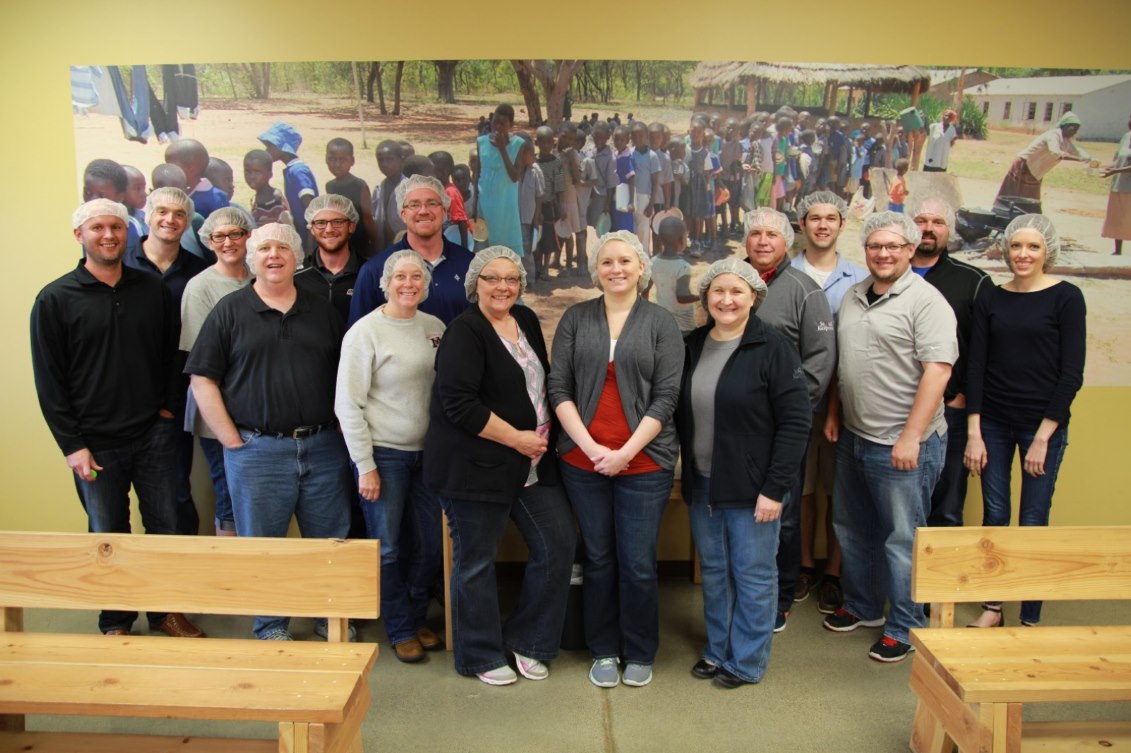 SeQuel employees helped package nearly 13,000 dry meals for a worldwide food-distribution charity this month to feed hungry children in Haiti.
"That's enough to feed 36 kids for an entire year," said Dawn Espindola, team leader at Feed My Starving Children. "For all the way through July 2016, 36 kids are going to have a nice, hot meal—and nutritious."
Feed My Starving Children, a Coon Rapids, Minn.-based nonprofit, has since 1987 provided nutritionally complete meals for starving, malnourished and hungry people in developing countries, where one in six children is underweight, according to the Food and Agriculture Organization of the United Nations. Each meal costs 22 cents to produce, and meals are funded and assembled by donor volunteers in the United States.
Last year, nearly 900,000 volunteers helped Feed My Starving Children package nearly 230 million meals for kids around the world. The organization's 2015 goal is 270 million meals.
"Our numbers go down over the summer significantly," Espindola said, "but hunger doesn't stop."
SeQuel employees formed an assembly line alongside other volunteers at the meal-packing plant in Chanhassen, Minn. Volunteers filled the dry meal bags with rice, vitamins, vegetables, and soy protein. They then weighed and sealed each bag, packaged them in boxes, and prepared the boxes for shipment to Haiti.
"It was truly a blessing knowing how many kids we were able to help feed in those few hours," said SeQuel's VP of Purchasing, Paula Phipps. "I loved the SeQuel team bonding and the fun competition to fill more bags and boxes than the other groups."
As part of SeQuel's new company-wide philanthropy initiative, when employees donate to charitable causes, the company will match their contributions.
"Working for a company that is focused on charitable giving is a breath of fresh air," said SeQuel's Director of Data & Analytics, James Fussy. "It helps to put life in perspective. Giving is contagious and promotes cooperation. Not to sound selfish, but it improves my sense of wellbeing by boosting my self-esteem and helping me grow as a person. I am truly blessed to be part of SeQuel."
Want to volunteer with Feed My Starving Children?
When it comes to direct mail testing, marketers can learn a lot from baseball's front-office executives.
If you sign a .150 hitter to your roster, you might get him on the cheap, but he's not exactly the guy you want up at the plate with one out in the bottom of the ninth. You already know there's an 85 percent chance this guy will not get on base with only one at bat. But if you can be patient with him, over the course of a few games and seven or so trips to the plate, chances are he'll eventually send one to the gap. But in the meantime, how many missed opportunities were there before you saw him get that hit?
"In direct mail testing, all we need is one hit," said SeQuel's Co-Founder and Chief Operating Officer, Jay Carroll. "However, our clients can't afford to run seven or eight A/B tests over the course of two years to get that hit. They want results, and they want them now."
A/B tests can be likened to a 'trip to the plate' in baseball. The likelihood of success is low, if you have only one shot, but if you get enough opportunities, chances are high you'll win at least once. For the vast majority of clients and prospects that SeQuel has engaged with, if they've been testing at all, they're testing in an A/B environment.
"You're going to throw one piece out and, if you're going to read the results correctly, you'll change only one thing about the package on the next try," said VP of Data & Analytics Scott Anderson. "You'll change one element, try again, change one element and try again. That's going to take you forever, and many marketers get discouraged and sometimes abandon testing—or even direct mail—altogether."
In DM there are innumerable features you can test at a given time. It's not often that anyone comes to SeQuel and claims they've tried it all, but in order to gather those learnings in one multivariate test, it's often prohibitively expensive.
SeQuel's proprietary FaQtor Test methodology seeks to deliver the best of both worlds. It provides the success rate of a full-scale multivariate test for near the investment level of an A/B test—it's a hybrid approach.
"Through the process of indexing and handicapping, we can show how various combinations of list, offer and creative would perform based on the relative performance of a specific list, specific offer and specific creative," said Chief Marketing Officer Erik Koenig. "Indexing what that combination would look like and handicapping it based on actual and projected volumes will many times lead us to the ultimate control combination of list/offer/creative, which may not have been tested initially."
"Our clients can't afford to run seven or eight A/B tests over the course of two years to get that hit. They want results, and they want them now."

-Jay Carroll, Co-Founder/COO
Most new controls SeQuel has built have come via an index that's been proven in a back test, rolled out, and then proven itself again. A/B and multivariate testing are literal; indexing is what everybody's missing. Many marketers are missing numerous potential—and affordable—winning combinations.
"You increase your likelihood of success by four or five times using our FaQtor Test method," Carroll said. "You increase costs incrementally vs. an A/B test, but those costs are an excellent investment, when the likelihood of success is that much greater."
If a company is performing A/B testing on a quarterly basis, which is considered above average, it would take more than a year to eclipse the chances of finding a winner with a single FaQtor Test.
"Our approach will be a fraction of the cost in time, energy and lost opportunity," Carroll said. "You also might have 12 additional months of an under-performing control, when you could have a new winner now."
Tired of inefficient testing methodologies?
SeQuel's involvement in a local clothing charity fundraiser helped the organization set event records for attendance and financial donations.
Four SeQuel employees, along with four family members of employees, attended the Ready for Success sixth annual "Fashion with a Passion" fundraiser at the Woman's Club of Minneapolis in April. Ready for Success provides low-income women and men with gently used and new professional clothing, accessories and new personal care items that are suitable for job interviews and the workplace.
"We'd like to send out a huge thank you to all who were able to come out and support Ready for Success," said Ready for Success Women's Program Manager Jennifer Paffel. "Over $24,000 was raised to help women and men in our community get ready for success."
SeQuel helped to support the silent auction, fashion boutique and fashion show for employees Vicki Erickson, Dianna Deppe, Terri Smith and Carrie Dunn.
"I like the idea that Ready for Success also mentors low-income people to help them improve their abilities to land professional jobs and be self-sufficient," said Erickson, SeQuel's VP of Client Services. "They help instill confidence and poise and help people turn goals into a reality."
"It was great to hear stories from individuals who have actually benefited from Ready for Success and gone on to get multiple jobs after receiving their services," said Dunn, an Account Manager. "It served as a great reminder why charities like these help to not only improve individual lives, but the entire community."
As part of SeQuel's new company-wide philanthropy initiative, when employees donate to charitable causes, the company will match their contributions.
"SeQuel has always encouraged me to grow and expand my career goals," Erickson said. "Knowing that they support causes like Ready for Success gives me a great sense of pride as an employee and as a woman. It's the little things that many of us take for granted that make a big difference."
Want to learn more about Ready for Success?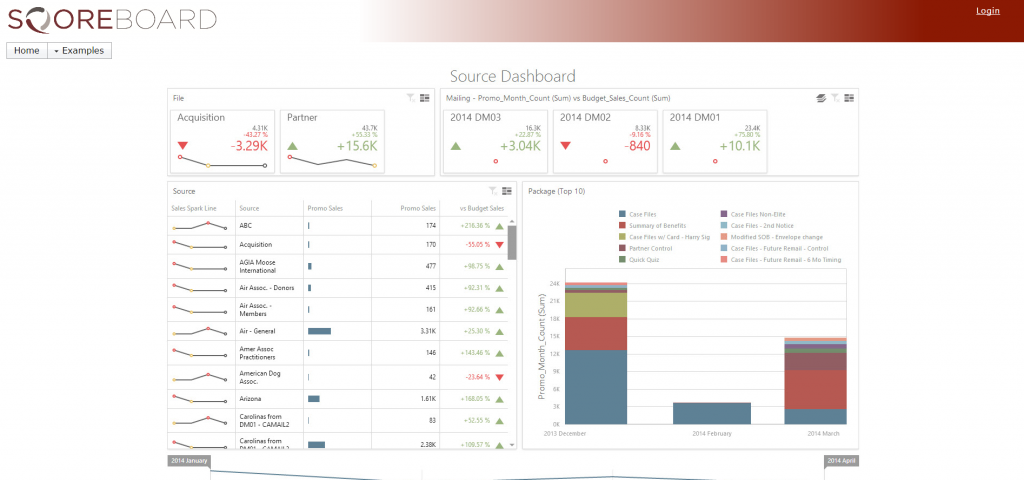 SeQuel's custom-built, cloud-based sQoreboard tool now provides our clients with real-time online access to campaign analytics.
"There are numerous database analytics tools out there, but there has been nothing—to our knowledge—until now that was specifically set up for direct marketing," said SeQuel's VP of Data & Analytics, Scott Anderson. "It greatly simplifies how we construct analytics for our clients, as opposed to a very manual process that might take a week or more for us to crunch the numbers."
sQoreboard automatically compiles campaign highlights in easy-to-comprehend charts and graphs for web, tablet or mobile. Our clients can view the results whenever they want, allowing them to make informed, time-sensitive business decisions that can make or break their campaigns.
"It's 100 percent customized to what is appropriate for each individual client," Anderson said. "If they have a question like, 'How did List B do in Package C?' they don't have to come to us and say, 'Can you run me this report?' It's very easy to navigate, which has been a large gap in our industry—user-friendly analytics tools."
SeQuel developed sQoreboard and has been extensively testing the proprietary tool for the past year with one of our largest clients, but it's now available to our full roster of customers.
"We have yet to find anyone that provides direct-marketing services like we do that also offers a product such as sQoreboard," said SeQuel's Co-Founder & Chief Operating Officer, Jay Carroll. "We believe this technology—along with SeQuel's ability to interpret results and set future strategies—gives us another significant point of differentiation in the market."
Want real-time access to campaign analytics? 
Direct mail is over seven times more effective than all digital channels combined, according to the Direct Marketing Association Response Rate Report 2015.
Median direct mail response rates to house-file lists were 3.7 percent, survey respondents reported. Email, social media, paid search, mobile and internet display together tallied only a 0.52 percent median response. Direct mail's overall prospect-file response rates were 10 times that of email, which came in at just 0.1 percent.
"The report is clear," said SeQuel's Co-Founder & Chief Operating Officer, Jay Carroll, "in spite of all of the noise about direct mail being a non-relevant channel, it is unquestionably still a potent marketing tool."
The return on investment in the direct mail channel was between 15 and 17 percent, on par with social media, and topping mobile, paid search and internet display. Email's median ROI was between 21 and 23 percent.
Direct mail's median cost per response of $19 was less than half of the cost per acquisition for internet display, which was between $41 and $50. DM's CPR was competitive with CPA in social media and mobile ads ($16 to $18), while email was $11 to $15. The study did not track CPA for direct mail.
"One of the most interesting takeaways from the study," said SeQuel's Chief Marketing Officer, Erik Koenig, "was the breakdown of CPR among different mail formats. A lot of marketers get hung up on cost per piece, prematurely ruling out more expensive concepts that turn out to be more viable than many think."
Dimensional prospect mailings had median response rates of 2.8 percent, beating oversized envelopes (2 percent), letters (1 percent) and postcards (1 percent). CPR was $43 for dimensional mailings, but $105 for oversized, $58 for letters and $59 for postcards.
The study also found that 44 percent of respondents use three or more marketing channels. When that's the case, those channels are most likely to be email, social media and direct mail.
Eighty-two percent of respondents said they expect their direct mail usage to grow or stay the same in the coming year. Half of respondents reported using direct mail in 2015, higher than social media (34 percent), paid search (30 percent), online display (29 percent), and mobile (5 percent). Email is used by 83 percent of respondents.
So if direct mail is so effective, why is usage down from 79 percent of respondents in 2012 to 50 percent in 2015? The challenge with direct mail, according to the study, is the cost, effort to deploy and the difficulty of tracking it.
"This is consistent with what we often see in the marketplace," Carroll said. "Many companies have either given up on mail or not tested mail because of a lack of internal resources, a lack of budget or a lack of an effective DM testing method.  It's in these circumstances where SeQuel can step in and resurrect or launch a successful campaign that will thrive for years."
Not every consumer responds favorably to the same marketing approach. Just as comedians can be dry or slap-stick, wine can be sweet or oaky, and paintings can be real or abstract, direct mail marketing can be official or promotional.
"With an official strategy, we don't want the format/design to tip our hand before they get inside the package," said SeQuel's Chief Marketing Officer, Erik Koenig. "A promotional package typically isn't hiding anything."
Design
Official mail pieces enter the mailbox disguised in an outer envelope that looks as though it could be coming from a governmental office, a legal entity, or with an implication that a previous relationship exists with the consumer. The recipient doesn't need to understand the proposition immediately.
"This is so important … don't you dare throw it away without trying to fully understand why I'm writing you today," said SeQuel's Chief Creative Officer, Mike Goodwin. "Things like certificates, certificate orders, official seals, and/or authorizing signatures are usually effective. Also, these packages usually abide by a restrained color palate, with an emphasis on blues."
Promotional mailers, on the other hand, employ art and images liberally. They clearly communicate the offer early on, often taking a friendlier approach.
"If consumers don't see a piece that screams, '70 percent off,' with bullets, starbursts or hand-drawn stars, they tend to toss it in the waste basket," Goodwin said. "There are sidebars, more involved and colorful graphics with captions and photos of people or products. Promotional designs can run the gamut from professional and dignified to cheesy and tacky."
Cost
In spite of its lack of color, official mail can still be more expensive than promotional mail, because it involves more components, such as envelopes, glassine windows, affixed cards and various inserts.
"Promotional mail is more likely to use four color, images, a heavier weight and higher quality paper, varnishes and even fifth or sixth colors," Koenig said. "So you could see a promotional package being much more expensive than official. But a promotional approach typically uses far fewer components. Perhaps it's even just a self-mailer or postcard, which can often offset the cost of all the other features. Ultimately, it's all about the CPA, not the CPM."
Best product fits
Official mail tends to work best in the insurance, credit card, and mortgage and loan categories. Letter and envelope packages – which are often official in nature – accounted for more than 80 percent of mail volume in all three industries in December 2014, according to marketing research firm Mintel Comperemedia.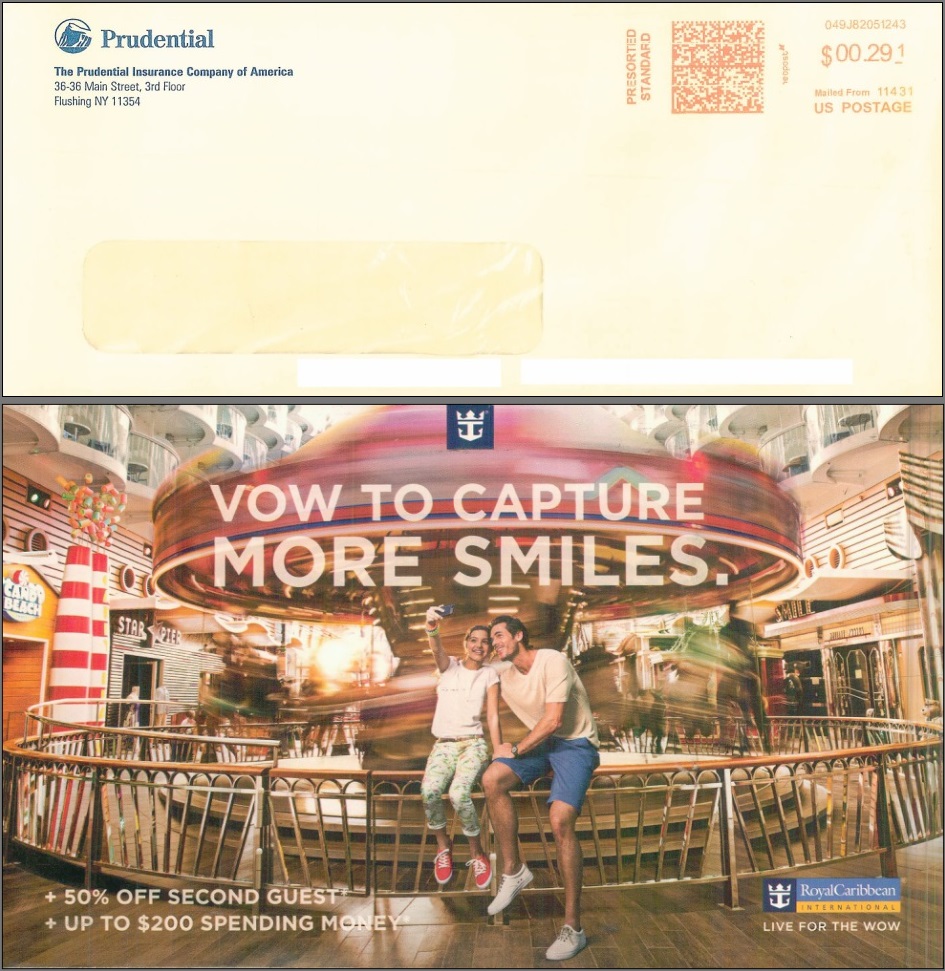 Prudential relies on an official-looking envelope (top), while Royal Caribbean takes a more promotional approach (bottom). Photo courtesy Mintel Comperemedia. 
"If we have an insurance concept with heavy imagery, many consumers dismiss it right away, because they see it as an offer for something they don't want," said SeQuel's Co-Founder & Chief Operating Officer, Jay Carroll.
The key is trying to tap into the emotion of fear by stressing the consequences of not opening the envelope, without relying on art to catch a consumer's attention. Due to regulations, insurance marketers cannot incentivize the sale with an offer, thereby leaving that marketing angle off the table.
"If we can get them inside the envelope and move them with statistics and possible consequences, maybe we can convince them along the way," Carroll said. "A promotional outer envelope can give away what we're trying to accomplish too early."
For promotional mailers, consumers usually have an emotional affinity with the product. For example, nonprofit packages sometimes show a starving child or an unclaimed animal on the outer portion of the piece.
"Promotional mail works with the things that we collect – the things we love," Carroll said. "Retail industries like golf, travel, wine, food and clothing – we're trying to connect the dots with the consumer right away with the imagery. It wouldn't make sense to fuss around with an official envelope."
According to Mintel Comperemedia, nearly 60 percent of the tobacco sector's December 2014 volume was self-mailers, which usually lean promotional. Self-mailers also accounted for more than half of banking volume.
SeQuel case study
SeQuel has seen these principles play out in its testing efforts with a prominent identity theft protection service.
"No one loves ID theft protection or life or health insurance," Carroll said. "These are necessities. So usually when it's a necessity, you lean more official."
The product doesn't carry an imagery connection that resonates with consumers, so SeQuel invests more in concepts that rely on facts, education and statistics.
"You would like to depict negative imagery of someone going through hell and back," Carroll said. "But it's hard to do it, because ID theft is such an insidious crime – much of which is computer based."
Exceptions
Nobody likes to think about life insurance, final expense insurance or health insurance – so one would expect official mail to work best in all cases. Travel insurance, however, seems to benefit more from a promotional approach.
"Travel insurance doesn't conjure up the same negative reaction as other insurance products – because travel is fun to think about," Koenig said. "It starts to blend which approach you should take in the mail."
Even though travel insurance is an exception to most insurance-mailing rules, it's still important to play on fear – but using art to tell the story.
"You lost your luggage. You broke your leg. Your flights were canceled. You got ill," Carroll said. "We show the imagery of that. People see the imagery and say, 'That would stink.'"
Testing
In new client campaigns, SeQuel generally structures its hybrid multivariate test matrices with a reasonable split of official and promotional mail – largely based on industry and past testing experiences. Ideally one style will trump the other, and then all testing can be either official or promotional – or a hybrid of the two.
"We test broad at first to learn which approach is best and then focus all our efforts on finding the most effective concept in that vein — eventually working toward more incremental enhancements as a campaign matures," Koenig said. "Our opinions don't really mean much. It's what the results tell us that matters."
Experiencing creative fatigue?
If you're in direct mail, you've probably heard of the term "merge-purge." And no, it's not what happens when you get sick to your stomach while accelerating to highway speed.
Merge-purge is a six-step process that creates the best possible list of names for your mailing by filtering out unwanted and duplicate entries — keeping you from pinching potential profits with wasted postage.
1) List conversion
Before the merge-purge can begin, all files need to be in the same format. It's nearly impossible to run a proper merge-purge if the data files vary in field length and layout. Garbage in — garbage out.
2) Pre-merge-purge count approval
Once you decide which lists you're going to use, always approve your input quantities before starting the merge-purge. Make sure you received all the lists you ordered, confirm the quantities and double check that your list priorities are set correctly. This simple yet crucial step might catch a mistake before the merge-purge runs, saving you money and keeping you on schedule.
3) Address hygiene and standardization
The United States Postal Service's National Change of Address database and various proprietary change-of-address databases will update addresses to the most current ones on file. Standardization can fix misspelled addresses, names and abbreviations. Without the correct addresses, the matching and de-duplicating processes won't do you any good.
4) Merge-purge matching logic
Address only: Name fields are ignored; entries are matched based strictly on address.
Household: First names are ignored; entries are matched based on last name and address.
Full name and address: Nothing is ignored; all inputs must match.
You can apply the same matching logic across all data inputs or change it up by source, depending on your business rules. For example, you could suppress house-file matches at an address level, while simultaneously matching rental lists at a household level.
5) Nthing
There are three ways to randomly pick a representative sample list from the total available mail volume:
A/B split: The simplest split of lists.
Random: Completely random across all lists or a group of lists.
Almost perfect: Random, but will contain the same number from each zip code in all lists – otherwise known as "Nthing."
6) Final count approval
If everything went well, this is an easy step — and like the others above, it should never be skipped.
Many factors can complicate this basic breakdown of the merge-purge process. It's not an exact science or automatic process, and it requires a balance of software and human judgment. But without it, even the most brilliant strategies, concepts and offers might never reach the mailboxes that would make your campaign a winner.
Tired of wasting money on duplicate/non-deliverable postage?
Process management, business rules, project workflows and client on-boarding are typically not the most intriguing aspects of the marketing world.  These terms are often associated with the nit-picky details of standing up a successful direct marketing campaign for a new customer.  But many marketers have enthusiastically jumped into new projects, only to experience major setbacks in timing and accuracy that could have otherwise been avoided by laying the necessary ground work for a smooth first-time execution.
Most process errors happen in the proofing phase–it can be difficult to ensure you're commenting on the most recent version of a concept when your email inbox is cluttered with updates.  SeQuel's dynamic online proofing platform tracks changes and approval sequences automatically.
That's just one example of how seriously SeQuel takes the on-boarding process.  We realize that we must pay close attention to all campaign details and make sure all participants understand the value of a thorough on-boarding procedure.  Essentially, we like to grab the reins and help our clients navigate through all of the mundane order entry processes so that they can focus on the strategic priorities, rather than project management.
The on-boarding process
On-boarding clients can be an art–it requires two ears and one mouth.  We must figure out the right questions to ask, listen carefully to the responses, fill any information gaps, understand the client's expectations, solve related problems–then execute flawlessly, on-time, and within the budget.
For a first-time customer campaign, SeQuel develops a unique action plan and documented process workflow that defines individual activities, ownership and deliverable timelines.  These activities can include the following:
Discuss and determine any current marketing process problems the client is facing
Understand the life cycle from planning to creative–through execution and analysis
Understand the client's brand guidelines
Learn the internal flow of communication and know who the key stakeholders and decision makers are
Understand the various participants & departments involved in the creative development process
Get familiar with the client's approval process and requirements (internal, legal, governmental review, underwriter reviews, etc.)
Determine the review process timelines per reviewer
Establish the online proofing process requirements: How does the client like to see layouts? How will they return them with changes?
Discuss the data processes that need to be followed, such as security, data flows, hygiene, ownership, reporting and analytics
Build schedules using the defined process workflow
Ongoing refinement
As each campaign closes, we continually look at refining our processes.  We seek improvement opportunities that will save time, eliminate redundancies and reduce the chances for errors. SeQuel's clients benefit greatly from our expertise in campaign management and from our thorough on-boarding and workflow processes. It is often said, "The devil is in the details."  At SeQuel Response, we've gotten to know him quite well.
Want to remove inefficiencies from your marketing workflow?
How do we know who won the Super Bowl?  The World Series?  The gold medal in Downhill Skiing?  Someone scored the most points.  Someone ran the course in the fastest time.  Without these key measurements of points or time, we would have no basis to award a team or an individual the title of "Champion."
Measurement and analytics are the basis for all direct marketing.  The ability to track the performance of a campaign–to test subject lines, envelopes, formats, or headlines–is paramount in determining the winning combination.
Analytics for direct marketing can take on many forms.  The most important first step is to define how you want a campaign to be measured.  What are the key metrics that will equal success?  Is it cost-per-acquisition, cost-per-lead, or maybe lifetime value?  With those metrics in mind, you can begin to plan your campaign, knowing where the bar has been set when it comes time to analyze results.
While failure is never desired, learning what doesn't work is often just as impactful as learning what does work.
After you know what you're going to measure, you can set up tests that will start you down the path of optimization.  We recommend testing what you consider to be the most impactful variables first.  Is it an email subject line?  The headline on a banner ad?  A self-mailer vs an official #10 envelope?  Analytics will extract the winning and losing elements, but it doesn't stop there.
Analytics can also tell you what your customers look like.  Effective regression modeling can give you a profile of their age, income & spending history–as well as track their performance by marketing channel.  Ultimately, modeling should tell us the ideal prospects we should target for the future marketing of your products or services.
At SeQuel, we thrive on analytics.  We seek to thoroughly measure and assess every program we manage–even though it might cause us some pain.  We believe that measurability leads to accountability, which generally leads to better and better performances.  In direct marketing, we can never rest on our achievements–we must constantly be looking for that next winner.
SeQuel is very excited to be introducing a new marketing instrument this year, which will go a long way toward assisting our clients in finding their "champions."  We believe the tool called sQoreboard, a proprietary online campaign analytics tool, will take direct marketing results analysis to the next level.
As a platform formatted for web, mobile and tablet interfaces, sQoreboard is able to automatically analyze the impact of each element of our client's campaigns–per list, per package, per offer, per channel, etc.  It is accessible 24/7 through a secure web portal, allowing clients to monitor the progress of their campaigns anywhere, any time.
Analytics through SeQuel will take out the guesswork and deliver sophisticated reporting in an expedited and convenient fashion.  You can get real-time dashboards, accurate reports and customized information that will be focused on your most critical metrics.
Win, lose or draw, SeQuel will help you find a new control faster.
Tired of waiting forever for surface-level analytics?
We all heard it was coming, but a postage increase three times the norm was NOT predicted by anyone in the mailing industry. While it's true, the Postal Regulatory Commission recently hit direct mailers with a substantial increase, there's no need to panic. SeQuel Response has outlined below five steps that you can take to help offset the escalation of postage in 2014.
What happened?
On December 24, the Postal Regulatory Commission approved the U.S. Postal Service's full 4.3% request for an exigent rate hike on Standard Mail, affecting magazines, newspapers and direct mailers. This is in addition to a cost-of-living increase of 1.6%, bringing the total increase to 5.9%.
Stamps for first-class letters will go up 3 cents to 49 cents on January 26, while bulk mail and periodicals rise 6%, a serious issue for mail-dependent industries.
Why the increase?
In its decision, the PRC blamed the Great Recession of 2008-2009 for the extreme increase. The Postal Service was looking to be reimbursed for exigent losses, determined to be $2.8 billion, to cover 25.3 billion pieces of volume lost between 2008 and 2011, according to PRC chairman Ruth Goldway.
Unfortunately for mailers, political infighting won't solve the issues we face related to our cost-per-piece; instead, we must navigate this cost impact on our own.
How can I offset the increase?
SeQuel's VP of Purchasing and resident postal expert, Paula Phipps, suggests five critical tactics direct mailers can employ to help minimize the postal rate increase:
Switch to Standard Mail: With one low price for up to 3.3 ounces, switching to Standard Mail makes sense in certain situations. When you are sending 200 pieces or more (or 50 lbs or more) of marketing mail, newsletters or other mass communications, Standard Mail rates will save you money.
Presort Software: Look for software that is CASS and PAVE certified. These features will increase your accuracy and help you comply with Postal Service requirements.
Mailstream automation solutions: Design your mail pieces for efficient processing and avoid the significant cost increases of non-machinable mail. Qualifying for presort automation rates can cut postal costs even more. You'll need to print a delivery point barcode on each mail piece and use an address list that has been validated against USPS databases.
Avoid Flats: Depending on the type of presort that you execute, postage for a flat size mail piece could be more than double the cost of a letter-size mail piece. Converting mail pieces from flat mail to letter-size is one of the easiest ways to cut costs and mitigate the rate increase.
Entry Point discounts: Transport your mail to a Network Distribution Center or Sectional Center Facility and use commingling for even greater savings.  This strategy could even speed up the delivery of your mail. Mailers who enter their mail closer to the delivery destination can save up to 18% in postage.
To summarize:
Use Standard Mail vs. First Class whenever possible.
Always take advantage of automated software and presorts.
Meet all standards, rules and regulations for maximum efficiencies.
Use a readable barcode to be as accurate as possible.
Ship mail directly to NDCs and SCFs and use commingling where possible.
Need to trim production costs?
It was a good year for direct mail last year.  With a national spend of more than $51 billion and general acceptance as the ROI leader among all direct marketing channels (telemarketing, DRTV, Internet Search & Internet Display), direct mail remains a very relevant and effective marketing channel, poised for growth this year and beyond.
In a recent "channel preference study" sponsored by ExactTarget, consumers stated that direct mail was by far their preferred method of messaging from companies that they had not previously heard from.  In essence, consumers have spoken:  "If you want to sell me something and I've not done business with you before, please send me a direct mail piece."
The outcome of this survey explains why many marketers refer to direct mail as their "conversion channel."  Television, radio, print and online advertising are of great value in providing product exposure and brand awareness, as well as some conversions.  In our opinion, these channels are especially effective at "greasing the skids" for the consumer to more carefully consider an offer in the mail–first by helping to compel them to open the package, and then hopefully to read it & respond.  We've found that direct mail is fully optimized when dropped in conjunction with a variety of alternative media.
SeQuel Response serves a number of clients who invest heavily into an integrated marketing approach–spreading their spend strategically across multiple channels in order to maximize conversion.  In other cases, SeQuel customers are using mail as their primary marketing tool, with their only other significant investment into online advertising. In both scenarios we've seen noteworthy campaign volume increases over the last two years due to consistently improving sales rates and a reduction in the cost-per-acquisition (CPA) through ongoing testing.
We expect this trend to continue this year.  We're planning to refine the methods we've been using to get our clients' campaigns where they are today, and we will explore numerous alternative angles to try to add a few percentage points to the sales rate and/or extract another $5-$10 from the CPA.
In our annual client planning & budgeting sessions for this year, we have emphasized the following strategies in hopes of taking their direct mail campaigns to the next level.  Compare and contrast these "Direct Marketing Resolutions" to your resolutions for this year–are you missing anything?
Direct Marketing Resolutions for SeQuel Response this new year:
Model Maximization.  If you have an existing model, don't fall in love with it. Test against your control model with alternative data platforms. Last year we saw a 30% lift in response for one client simply through the incorporation of a new model.  Another good discipline is to regularly rebuild your current model based on its most recent performance trends.
Tenacious Testing. Whether your campaign is improving or declining, testing must be a staple within each program you drop.  We can never relax in our testing as we know that every control package eventually starts to dip in performance.   It may take three months, 12 months or three years, but the lifespan of every control is usually measured in months–not years. Therefore, dedicate a portion of your budget each month (5% – 10%) so that you can continually test creative, offer & data.  Your next 25% lift might be just around the corner!
Responsible Resting.  Be sure to examine the frequency & timing of each of your campaigns.  How many times will a prospect or current customer see an offer from you this year?  Measure the impact of one touch vs. two touches vs. three touches, etc.  Determine whether or not the same package & offer to the same consumer works better than rotating creative packages or offers.  Fatigue can bring an early demise to the creative, offer or list if we're not careful to track how often we mail a consumer and how much rest we're giving them in between drops.
Prudent Postage.  Our friends at the USPS just hit the industry with one of the most aggressive price increases we've seen in decades (a 4.3% – 6% increase for standard mail this year.)  That was an unexpected punch to the gut!  Rather than lick our wounds and reduce mail volume or frequency, it's time to fight back with even more efficient postal strategies.  BMC & SCF shipping techniques–along with co-mingling your mail–can help to offset as much as 50% of the planned price increase (depending on your mail volume).